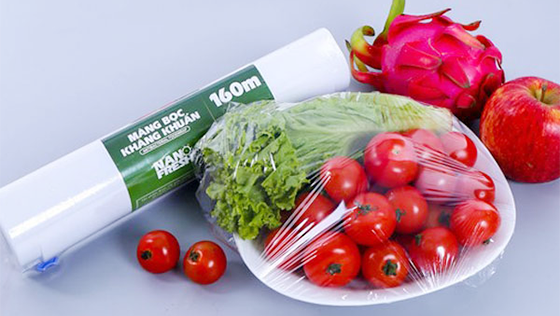 Food membrane
Chuyên mục: Plastic film
Used to preserve family food. Throughout, PE material is safe with health
CONTACT
FEATURE OF FIBER FIBER CHEMICALS
Food film is a thin plastic film made of plastic, can be stretched and attached to be used to wrap food, wrap the goods pallet …
Features of PE film: transparent, colorless, odorless, no reaction with common solvents, inert with acids, alkalis, no water and air passage … and especially is tough and can stretch 120% in 360 degrees.
There are currently three popular food coatings, pvc film, aluminum film, PE film.
The use of pe film-coated food is very simple, you just need to wrap food directly or put them on the plate / bowl / box. Then cover the bowl / plate / box again. PE film has good elasticity and adhesion, so you only need to stretch the film and then lightly stick to it.
Products related